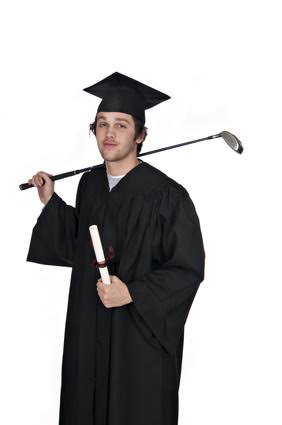 When your child starts high school and approaches the college admissions stage, you may feel a lot of stress building up. After all, the financial considerations involved can be fairly daunting. Consider a few relevant facts: Between 1995 and 2015, tuition and fees at private national universities grew by 179 percent on average. During the same time frame, out-of-state students at public universities saw costs increase by 226 percent.

In light of these troubling statistics, it's little wonder that many parents take comfort in the availability of scholarships. Too often overlooked, athletic scholarships turn academic dreams into reality for thousands of high school seniors. In 2014 alone, U.S colleges gave varsity athletes more than $3 billion in scholarships. Many people don't realize that golf scholarships from external organizations are more common than in many other sports. This is related to the fact that stars like Tiger Woods have gained the sport many new spectators in the past few years.
People who conduct sufficient research can find a wide variety of golf scholarships to meet their needs. Each year, the NCAA awards scholarships to over 126,000 undergraduates with athletic potential. Altogether, these full and partial scholarships amount to approximately $1 billion in education funding. Besides the NCAA, a number of other organizations provide full and partial athletic scholarships. These include the National Junior College Athletic Association (NJCAA) and the National Association Of Intercollegiate Athletics (NAIA).

One of the best ways to start capitalizing on this great sport is to enroll your kids in the Aussie Kids Golf Academy. Our trained experts kindly teach children as young as three years old. Importantly, the Academy keeps things fun for kids while teaching the basics of the game. With its combination of manual skill, strategy and exercise, golf is a sport with boundless appeal to people of all ages. By enrolling your child into a golf program, they will be able to refine their skills as they age that will potentially get them a scholarship in the future.

Parents often have difficulties getting their kids interested in outdoor activities. As technology continues to creep into the lives of our young people, golf creates a great opportunity to unplug and get outside into the fresh air. Our academy has the knowledge, passion and organization to make sure your child can succeed in golf.

Whether your children want to learn to golf or improve their golf skills, today is a great day to enroll your child in one of the camps at Aussie Kids Atlanta.