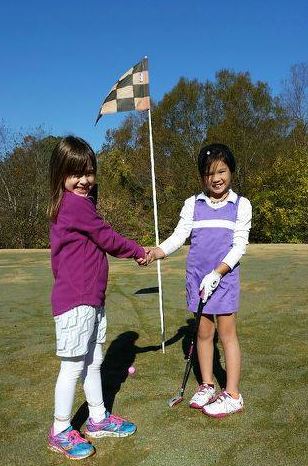 When you are looking for a great after school program for kids, there are a lot of choices out there so it's important to think about what you want out of the program.  Most likely, you want something that will provide your child with an enjoyable activity, but what if I told you that they could actually learn things like concentration, good manners and self discipline, without even realizing it?   It's true, but what is even better is that these are just a few of the many benefits that golf provides kids.
In order for kids to get the most out of an after school program, the first thing it should offer is FUN. Aussie Kids after school golf program offers plenty of fun and excitement, but it also helps to boost confidence and provides them with a set of principles that will help them in all areas of their lives.
Golf is a game where honesty is the only way to play and improve. It's the one sport that the rules of the game can actually make you a better person. There is etiquette within the game of golf that includes being patient with others, having self control, and having respect for yourself as well as others. As kids are introduced and learn the game of golf, they will also be introduced to the rules of golf.
Golf also provides kids with:
● Physical Activity – Golf provides kids with a way to get outside and get some exercise. Swinging the club and walking after the ball has them working their core, burning calories and building muscle.
● Social Activity – Many kids find it difficult to meet other kids that are interested in something besides video games. Attending Aussie Kids After school program is a great way for kids to meet other kids that enjoy the same things. They can develop some great friendships that they can take into the rest of their lives.
● Mental Focus – Playing golf takes time and focus. As an outdoor activity, things like rain and wind can make playing a game of golf a challenging activity to say the least. Those who play the game learn how to get and stay focused despite these sometimes unforeseen obstacles. Although it can seem impossible when you start, even young kids learn how to block out distractions and pay attention to their golf game.
● Decision Making – Playing the game of golf requires many skills and making decisions is an important one. Through the game you learn that if something isn't working, you need to make the decision to change it in order to improve your game. And what golfer doesn't want to improve their game?
● Having Fun – When choosing an after school program for kids, it's all about having fun. Over the last few years, golf has become the chosen sport for many young new players and it's popularity is growing. Golfers like Rory Mcllroy and Keegan Bradley are quickly becoming superstars for young golfers and many kids have become interested in the game because of them.
Learning how to play golf has so many benefits and kids can start at any age. If they can hold a club, they are ready to learn. At Aussie Kids, your child will learn the skills needed to play the game while having fun with new friends. As a goal oriented after school program for kids, our coaches can bring out the best in your child while focusing on fun, learning, confidence and performance.