Aussie Kids Golf Training Program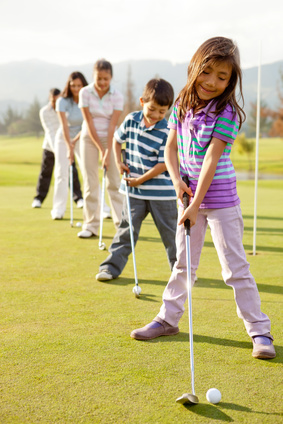 Golf legends like Tiger Woods weren't born with golden clubs in their hands. Someone had to give them a club and teach them how to play. Tiger started taking golf lessons when he was very young after his parents noticed that their child loved the game. By practicing and perfecting his skills for decades, Tiger turned his hobby into a career, and he became one of the highest paid professional competitors in history.
There would be no professional golfers if there were no supportive parents and dedicated instructors to help young players hone their talents. The same is true of all sports: Most professional athletes having been playing their respective game for most of their lives. According to the National Golf Foundation, children who start playing golf at a young age tend to keep playing as adults. Young children can often learn new skills quicker than adults because their brains are still developing, which makes them a sponge for new information.
At Aussie Kids Golf Academy, we teach kids as young as three the basics of the game. Our youth golf training program uses incentive-based methodology to bring out the best in students. Children need golf training that is carefully balanced in terms of difficulty and challenge to keep them engaged. A lot of technical instruction will likely bore young kids, but too little practical training can leave students without the skills necessary to succeed, which leads to frustration. Our coaches have many years of experience working with youth, and they are experts at creating a fun learning environment for all young players. Parents are often surprised by the vast improvements in performance and confidence that they see as their children train with our professional instructors.
Just like other sports, playing golf can help kids meet new people and develop relationships. It can also teach them the value of friendly competition and how to healthily cope with both success and disappointment. Golf can be a great family bonding activity; playing a game together outside is a much better alternative to watching television or sitting in front of a computer screen. Since golf requires a lot of focus, spending time on the green gives children and their parents a chance to talk and share quality time without distractions. In a world that is increasingly being taken over by smartphones and other devices, golf provides a perfect opportunity to take a break from technology and truly connect with others.
Aussie Kids Golf Academy operates in two locations that each offer multiple programs including group lesson, private lessons and golf camps. Whether your child comes to us with no golf experience, or they have already been playing and want to up their game, we can help them meet their golfing goals. Visit us today so that we can help you decide which program is the best fit for your future golf champion.