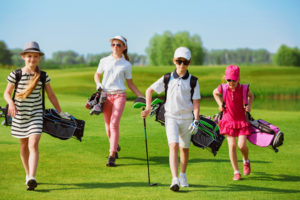 If you want to get your children's lives started in the right direction, planning for their college fund is a vital part of the puzzle that you don't want to ignore. Even if you start saving now, paying for your children to go to college can place a lot of stress on your budget, but you can use golf scholarships to combat the problem. You can find many schools that will accept golf scholarships, and your children will get the education they need to chase their dreams. Before you make your final decision, you should review the top colleges, which will help you move forward with confidence.
Top Colleges for Golf Scholarships
Depending on the line of schooling your child wants to pursue, there are a number of Colleges and Universities that will accommodate a golf scholarship.
If your children want to obtain a career related to computer science, they can use a golf scholarship to attend the Georgia Institute of Technology, and students who demonstrate exceptional golf skills can have their tuition reduced or eliminated.
If you believe that your children might want to try a private college, they attend go to Florida Southern College once they obtain a golf scholarship. This school is located in Lakeland and provides students with tools that will empower them to succeed in life.
If you have daughters who would like to benefit from a golf scholarship, you can send them to Rollins College in Winter Park, Florida.
If your child located in or is looking to head toward the west coast, the University of California, Los Angeles (UCLA) offers a great cirriculum for an array of subjects and majors for golf scholarship holders.
Benefits of Learning How to Play Golf
In addition to helping students earn attractive scholarships, learning to play golf offers a range of undeniable benefits. Since mastering this sport requires time and hard work, students will develop the self-discipline that will help them in every area of life. Improving their golf skills will show students the importance of setting short- and long-term goals, enabling them to understand that they can achieve anything to which they set their minds. Also, learning to golf allows students to acquire athletic skills that will help them succeed in other sports.
Aussie Kids
If you would like your children to have access to amazing golf coaches who will help them reach their goals, you will need to find a trusted golf school. At Aussie Kids, we have a team of instructors who are experienced with guiding children of all ages and skill levels. Our facility has a range of classes and pricing options, and you won't have any trouble finding a program that is right for you, your children and your budget.
Whether you want standard or private classes, we can meet your needs in a way that you won't soon forget. When you enroll your children into one of our programs, we will arm them with the knowledge and mindset needed to play with confidence, and the scholarship for which they have been hoping will be just around the corner.
Getting Started
Not only will golf skills help your children get into college, but they will also allow them to develop talents that will benefit them for the rest of their lives. If you want to get started and to give your children the boost they need, you can contact Aussie Kids for more information. When you speak with our team, we will answer your questions and address your concerns, and we look forward to serving you.