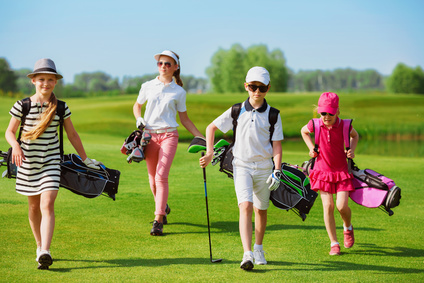 For many parents, the end of the school year can bring with it a nagging sense of anxiety. During this time, you may naturally worry about how to keep your children constructively occupied. After all, you don't want to see your child planted in front of the TV all summer. Nor do you want to see your child hunched over electronic devices, texting furiously all day, every day. Fortunately, most kids have a latent inner desire to stay active and engaged.
If you're a parent picking a sport for an active child, golf might not be the first sport that comes to mind. However, golf combines physical and mental activity in just the right doses to help overactive kids work out kinetic energy and calm down. Not only does the golf course contain few distractions; quiet is important when making shots. For kids who have trouble sitting still, learning to enjoy a quiet sport like this can open up new vistas of achievement.

The Benefits Of Golf
One of the best quotes about the benefits of golf comes from Annika Sorenstam, the Swedish-born golf champion: "Golf teaches you a lot about life." In addition to building muscle control and fitness, Sorenstam says, golf teach teaches players about "…being focused, determination and how to listen to instructions." Without question, playing golf also builds patience, good manners and personal discipline. Of course, these benefits wouldn't amount to much if golf wasn't a lot of fun. Fun activities like these can bring you and your children closer together.

A Vigorous, Physical Game
Driving the ball across the green is a medium-intensity workout that strengthens your core while engaging the muscles in your arms and upper body. Each time a golfer executes a swing, this act burns calories and builds muscle. This benefit is compounded by the enormously positive effect of walking from hole to hole. Although the distance walked varies depending on the game, the typical golfer walks three to four miles during a full, 18-round game.

A Sport That Can Help Parents Pay For College
Last but not least, golf can help students pay for their college educations. During a time when college tuitions and fees are soaring, this is an important consideration for most parents. Each year, full and partial golf scholarships help thousands of young students build their futures.

The dedicated staff at Aussie Kids Golf Academy knows how to get the best out of your child–both physically and mentally. Since participation is required for all children present, every child is encouraged to enjoy learning this active, invigorating game. Our academy is now registering kids for our fun summer sessions. After looking at the options we have available, we're sure you'll find that our golf training can be a "hole in one" for you and your kids this summer. Whether you want your child to learn golf or improve skills, now is a great time to enroll your child in one of our camps at Aussie Kids Atlanta.