With Summer quickly approaching, parents are looking for summer camps for their kids. For kids who enjoy playing golf or have showed interest in learning to play, golf camps are a great idea. But before you sign them up, there are a few things to consider so you can make sure that you are getting what you want from the program.
Most junior golf camps are suitable for kids from age seven to seventeen at any skill level. They will usually divide kids into groups, depending on what level they play at in order to make sure that they are able to work on the skills they need for their level of play.
We know that if your child is new to the game, they will have needs that differ from those kids who have been playing for a while, so in order to ensure your child isn't left behind, here are a few tips on what to look for in a junior golf camp.
I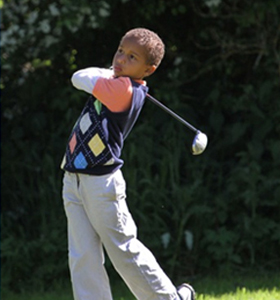 nstructors – You will want to know who is teaching the camp. For beginners new to the game, the instructors will most likely be assistants professionals or college golfers. The classes are more relaxed and fun with a variety of games and activities that teach newcomers the basics.This is a great way to find out if your child shows an ongoing interest in the game.
If your child has been playing for a while and is interested in improving skills to play a better game, you may want to have a PGA or LPGA professional as the instructor so your child can work on the skills they need to improve on.
Student – Instructor Ratios – How many kids will be in the camp? In order for a student to learn, the class must not be too large. A good ratio is a ten students to one instructor. If there are too many kids, it makes it hard for the instructor to give each child the attention they deserve.
Level of Play – You will want to ask about how the classes are divided up based on skill levels. You don't want a child new to the game to be with experienced players or they may be watching the whole time. It's important to know your child will get something out of the camp.
Camp Programs – There are a few different programs available so if your child is a girl, you can check out the LPGA golf camps as well. Of course, more and more girls are starting to play so having them in camp with the boys is great too!
Camp Costs – Costs can vary depending on how long the camp lasts and their location. They normally have their own system so it's important to ask about any requirements and memberships needed. The best thing to do is to call a couple of golf camps and compare costs to determine what is best for you.
The best thing about junior golf camps is the friendships that develop and the fun they will have while learning and improving on skills that not only benefit their golf game, but also help them with life. No matter what level your child is at, they will benefit from attending junior golf camp this summer.