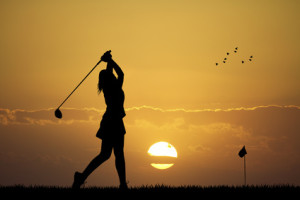 This Girl is on Fire!
When you think golf champion, most likely the first name that comes to mind is Jordan Spieth, but that may change once Mariah Stackhouse hits the tour. As a member of the Stanford University golf team, she has been one of the most exciting players to watch and an inspiration to all girls who love the game of golf.
Much like Tiger Woods, Mariah got her start early as she tagged along to the course with her dad, Ken. By the time she was six she was competing, and at just fourteen years old, she competed in the Georgia Women's Amateur Championship and won, making her the youngest winner ever.
Her golf career is more than impressive and it looks as though that will continue. In May, miss Stackhouse and her Stanford team had an impressive comeback win over the Baylor team by winning the Women's NCAA title. It was the first time Stanford had won the event.
Mariah is an impressive player, no doubt, but that's not all she is. Mariah Stackhouse is also a great role model. Although she could be playing golf professionally now, she has decided to finish her education first. She has said that her parents have always told her that she needs to plan for life after golf. Not that she will need to, but she has taken that advice to heart.
After graduation, she'll start her professional career, but at Stanford she is a communications major with hopes to have a career in broadcast journalism in the future. For now, her main focus is to play golf with the best women in the world.
With her skill, dedication, and attitude, we know she will bring a lot of excitement to women's golf and inspire young girls all over the world to play this great game.