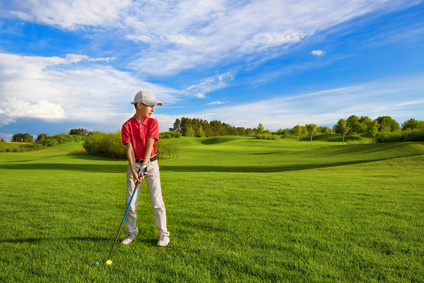 Parents! You know your kid more than anyone else, and how the pressure of competing in a tournament might affect their emotions and, ultimately, their game. As golfers, we've all felt the jitters of getting on a course for competition. But with a kid, it takes even more diligence to ensure they're physically and mentally ready.
First and foremost, it's important to remind your junior golfer that the game is all about having fun out there on the fairways and greens. Once you can reassure them that the results don't matter as much as how much they enjoy playing golf, you'll put their mind at ease and then you can focus on preparing them for the tournament.
While registering your junior golfer for a tournament sounds easy, it takes the proper equipment and a lot of practice and preparation to ensure you both are ready for the big day. With that said, here are five simple tips by Aussie Kids Atlanta to help ensure your junior golfer's first tournament is as memorable for them as it is for you.
Practice Makes Perfect: Prepare Before You Register
To make sure your junior golfer is ready for a tournament, it takes hours of instruction and years of practice. Otherwise, walking onto the course could spell disaster as far as their confidence. When registering for a tournament, talk with your kid and ask them how they feel about competing at the next level. Study their game during practice and analyze how it has evolved. If they're comfortable enough to enter and you feel like they're ready, then it's time to start the real preparation.
Study Like It's a Math Test: Get to Know the Course Beforehand
If it's possible to visit the tournament's course a week or two prior, spend time with your junior golfer walking and assessing it – or even better, play a practice round. Take notes about important game-day factors like terrain, bunker locations and other hazards that could impede their game. Check for a map of the course online, and use it at the practice range before tournament time to set a solid strategy. Every piece of information and detail you can find out about the course can come in handy.
Rest to be Your Best: Sleep will Help with Focus and Fatigue
According to the National Sleep Foundation, a teenage need at least eight of sleep for optimal health. This is especially true when they're physically and mentally preparing for a challenge like a golf tournament. While those jitters might get in the way of a full night's rest, take every step you can to ensure your junior golfer gets enough sleep so they can focus on tournament day and not become fatigued. Darken their room, have them take a hot shower and get them to bed as early as possible.
Stay Out of the Water: But Don't Forget to Drink It!
Staying hydrated is as important as anything else when preparing for a golf tournament – before, during and after it. Teenagers, both boys and girls, should drink between 1.5 and 2 liters of water per day. If it's an especially sunny and hot day, it doesn't hurt the drink even more. Remember to also provide them with fluids that contain electrolytes, like Gatorade.
Visualize Victory: Mental Toughness is the Key to a Good Tournament
There are many ways golfers can become distracted on tournament day, whether it's their own thoughts or something externally. Teach your junior golfer to clear their minds and think about completing the course successfully – and even holding the trophy. Before bed every night until tournament time, have your junior golf spend five quiet minutes picturing them swinging seamlessly and having fun.
Training is a major part of preparation. At Aussie Kids Atlanta, we know what it takes to prepare junior golfers for a successful lifetime of golfing, whether it's on a part-time or professional level. Contact us today for more information about our programs.