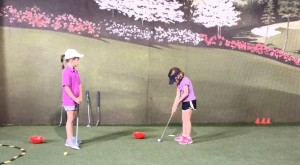 Spring is right around the corner, and it's a great time to choose the perfect activity for your children to enjoy in the upcoming months. Golf may not be the first activity that comes to your mind, but it's a really fun sport for children that keeps them motivated and active. The game of golf also serves to improve your child's confidence, focus, problem-solving skills and eye-hand coordination.
Sign Up for Spring Training Today
Here at the Aussie Kids Golf Academy, our experienced instructors are offering spring training sessions for children as young as age 3 and up to age 12. We provide an excellent schedule that allows you to bring your younger children to class during regular school hours, and older children can attend right after school. Check out the schedule, and you can get your child registered today. Classes are set to begin on Monday, Feb. 29, and will run through Saturday, May 21.
New Location in Johns Creek
We're committed to bringing the best golfing experience possible to Georgia kids. For the convenience of our clients, we've opened a second location in Johns Creek. You'll enjoy all of the same great features that can be found at the Buckhead facility, and the second location will help us to provide fun and learning to more children. The grand opening for the Johns Creek site will coincide with the first day of spring training on Monday, Feb. 29. As part of our celebration, you're invited to participate in our sweepstakes, and you could win two free weeks of golf lessons. Drawings will be held weekly now through February and possibly longer.
Come Enjoy Golfing With Us
Please feel free to bring your children to visit our facility, and you're sure to want to sign up for classes. Whether you're looking for a great time of fun and learning for very young children or the perfect safe and fun after-school program for older children, you'll find exactly what you need here at Aussie Kids Golf Academy. Our state-of-the-art golf-training center offers 9,000 square feet of space for your children to safely enjoy learning all of the aspects of the game of golf. Give us a call today at 404-812-6808, and our friendly staff will be happy to speak with you about any questions or concerns that you may have.