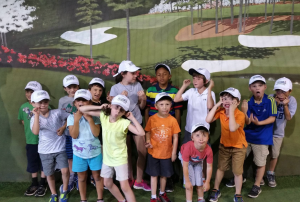 If you have thought about getting your child involved in the game of golf you're not alone. These days we are seeing kids younger and younger on the course, and some of them are pretty darn good.
Just last month we saw fifteen year old Cole Hammer get a shot at the The US Open, playing along side golf greats Phil Mickelson, Dustin Johnson and Jordan Spieth, the twenty one year old who won this amazing event by one stroke. Cole didn't end up making the cut, but what an exciting opportunity for this kid.
The reality is that playing golf offers so many benefits that go beyond playing a game. The amazing thing is these benefits will not just help them on the course, but help them with all the experiences they will have throughout life.
So, what are these great benefits?
First of all, they will learn life skills like mental focus and discipline. In order to continually improve, you have to get out and practice. There are a lot of different skills they will need in order to be a good golfer. They will need to work on their swing, putting, driving, chipping and a list of other skills. Having the discipline to work on something over and over takes work and dedication.
They will learn that healthy habits are very beneficial. On the course they will be outdoors enjoying fresh air and all types of weather, but they will also walk a lot, up to five miles is pretty standard. They will be getting some physical exercise, but many golfer say that their game improved even more once they included weight training and healthy eating into the mix.
Good manners are a must on the golf course. Along with learning the rules of golf, they will also learn about golf etiquette. Some of those rules include taking good care of the course you're playing on, keeping your temper under control, being honest, respecting others time, turning off the sound on cell phones, dressing appropriately, and continuing to learn. Of course their are others, but the bottom line is that good manners do count.
They will learn social skills. Getting your kids involved in playing golf allows them to find others that enjoy the same thing. It facilitates bonding, friendship and most importantly, fun.
Golf is a game that offers a lot of fun for kids all while they learn valuable life skills, without even realizing it. So if you have been thinking that it might be a good idea to get your kids into a golf program, the answer is a big yes. They will love it!