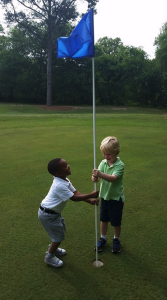 If you'd like to help you child build some character while having fun, there is no better way than playing golf. As we rev up once again for another school year, you may be thinking about what type of after school program your child may enjoy. If you're considering golf, you are going to be thrilled with the benefits of having your kids play the game.
Golf, like most sports, is a fun activity that kids can play while:
Making new friends
Improving their skills
Feeling like part of a team
Building confidence
The lessons that will be instilled in kids who play golf will be beneficial for a lifetime. As anyone who plays the game can attest to, golf, unlike most sports, can be a played throughout life which makes it uniquely gratifying.
Why Kids Should Play Golf
The lessons they will learn playing golf are valuable in the real world. They will learn that:
Hard work does pay off.
Dedication is something to be proud of.
Practicing is necessary when you want to see improvement in your game.
Honesty and self respect go hand in hand.
Challenging yourself teaches you not to give up.
The best part is that these skills are all transferable to real life situations like family, friendships, school and career. Teaching kids golf has another benefit as well. No matter how young your child is, golf is something that families can enjoy together. With technology  seemingly taking over our kids lives, golf is an opportunity to unplug and get outside. The walking alone offers opportunities for exercise and time to talk, and the bonding that takes place will never be forgotten.
After school programs can introduce them to a new world of fun, friendship and a social life that doesn't include technology like social media and video games, all while teaching them valuable life lessons, without them even realizing it. No matter how old or young your child is, now is a great time to introduce them to the great game of golf.