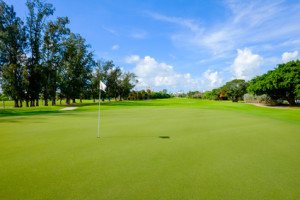 Young golfers are taking the world by storm and although it's great for the sport, making sure they have sufficient sun protection can be an issue that can cost them dearly. Skin cancer is on the rise so getting educated is vital, especially for people who spend most of their time outdoors.
Fortunately, there have been some pretty amazing new sunscreens and other products that are available with the goal of keeping sun worshipers safe in the sun. Here are the top ten tips to stay safe while out on the golf course.
Always wear sunscreen. No matter what time of day you're out, you are at risk when in the sun. Making sure you are fully covered is vital in staying protected.
Head out early. The sun's rays are strongest between noon and two PM so going out early means that you can get in 18 holes before the UV rays are strongest.
Although the sun is hot, the UV rays is where the danger lies.
Choose appropriate clothing. Wearing hats, long sleeves, sun glasses and specialty clothing that protects you from UV rays is always a good idea.
Reapply sunscreen every nine holes to be sure you're well protected all day.
Make sure your sunscreen has coverage for both UVA and UVB protection. Choosing a broad spectrum sunscreen will give you the most protection against dangerous ultraviolet light.
Understand the power of the sun. Golf courses have sand and water and the sun and UV rays can bounce off those surfaces and cause skin damage.
The summertime is an amazing time to be outdoors but staying safe on the golf course is vital in order to stay healthy. Choosing the right sunscreen is your number one defence against skin cancer but knowing other ways to protect yourself will ensure you can enjoy the great outdoors safely.