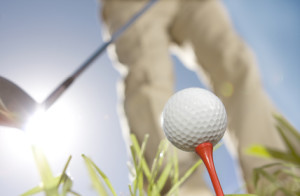 When is comes to playing golf, dedicated players will be on the course no matter what the weather is, which means that even the summer heat won't keep them away. But as temperatures rise and humidity sets in, it can be a challenge to enjoy a round of golf, even for die hard golfers.
The good news is that the summer heat doesn't have to stop you from getting out on the course, if you follow a few smart rules.
Play early. During summertime, many courses open early so by getting an early tee time, you can get in your round for the day without getting bogged down by the heat. The hottest time of day is between 11 am and 2 pm so getting on the course when they open will help you to be more comfortable.
Stay hydrated. Be sure to drink lots of water, even if you're playing early. Most of us don't realize that we can become dehydrated even before we get thirsty so drinking a lot of water will ensure that you feel your best in the hot weather. It's a good idea to freeze a few water bottles to ensure they will stay cold throughout your round.
Wear sunscreen. Sunscreen is a must anytime you're outside but especially on the golf course where you will be in the sun for a long time. Even with cloud cover, the sun's UV rays are working so wearing sunscreen is vital.
Choose appropriate clothing. Many golfer like wearing black but choosing lighter colors goes a long way in keeping you cool on the course. Whites and light colored pastels are good choices and keeping clothing a bit loose will keep you comfortable as well.
Wear a visor. Wearing a visor is a great way to keep your face shaded without blocking the heat from escaping through your head. This ensures you keep your body temperature down as you protect your face from direct sunlight.
Have a towel. Bringing a towel can help to keep sweat to a minimum and allow you to wipe your hands off so the club doesn't slip out of your hands. There are cooling towels on the market that can be beneficial if you play often.
Avoid sugar loaded beverages. Although sports drinks are advertised to keep you in balance, many of them are loaded with sugars which can actually cause you to feel dehydrated. Stick with cold water and sugar free beverages.
Staying cool won't be a challenge this summer or keep you from getting on the course if you consider these tips for playing in the summer heat. Heading out during cooler hours is the main thing to remember, then you'll get in your golf and still have time for a day at the beach!