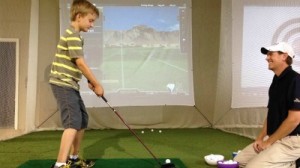 As the weather begins to cool down, most kids become less active and end up staying indoors spending their time in front of the television set or playing video games for hours on end.

It's no surprise that cold and rainy weather can be a deterrent for young golfers, but their training doesn't have to stop when the seasons change.

Indoor facilities provide the opportunity to work on their game regardless of the weather conditions outside. Simulators can create the experience of playing outside using state of the art graphics that allow you to practice in a small space. There are several benefits of using a simulator in order to continue lessons.
Instructional aid – Most simulators have sensors or cameras that track your swing, stance and club movement that offers feedback on how to improve your game.
Challenge – Most simulators have more than one course available so once you have mastered playing on one, you can choose from others so you'll always be challenged.
All Weather Play – the weather tends to be one of the most challenging obstacles for many young golfers but having a simulator available means that you can continue practicing without worry of rain, cold or excessive heat.
Focus – Whatever you need to work on, your stance, swing, chipping, or any other aspect of your game, a simulator allows you to focus on it until you get it right.
Golf is a great game that offers kids an opportunity to learn real world skills and improve their confidence along with their golf score. The prevalence of childhood obesity is one of the biggest problems we have today, and it's mostly due to poor diet and the lack of regular exercise kids get. Although it's a complex problem, one of the most important remedies is getting and staying active, all year long.