Birthday
Parties
Hit a Hole In One With Golf Birthday Parties at Aussie Kids Golf Academy!
Choosing an fun way to celebrate your birthday!
Come and experience something totally UNIQUE for a birthday party and venue:  Your Golf Party Adventure.
All kids will love to have FUN learning the game of golf and playing exciting games together.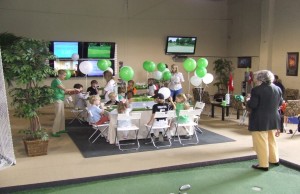 Having a birthday party for a child can take a lot of work and let's face it, who needs the stress? Instead of having the same party you seem to have every year for your child, why not give them a party they will love?
Aussie Kids Golf Academy offers a fun way for your child to celebrate their birthday with friends while our fun and friendly staff helps parents with the heavy lifting that takes the stress out of having a party.
Aussie kids offers birthday parties for kids ages 3 to 12 on Sundays with three times to choose from.
● 11:00am – 12:45pm
● 1:30pm – 3:15pm
● 4:00pm – 5:45pm
Overview
1 hour of golf fun and games
45 mins of Birthday Celebration
Ages 3 to 12
Pricing:
Up to 10 Kids → $295
Up to 15 Kids → $395
Up to 20 Kids → $495
Why Choose a Golf Party?
There are several reasons, but the most important one is the fun a golf party provides, and not just for the birthday boy or girl, but for all of the guests as well. Also, if your child doesn't already love the game, it's a great way to introduce them to the great game of golf.
A birthday party at Aussie Kids includes:
● An hour of golfing games with our trained instructors that consist of relay races, putting stations, chipping stations, and driving stations on computer simulators.
● All equipment is provided for each guest.
● A full 45-minutes for your child's birthday celebration where they will enjoy food, presents, birthday cake and any other party games or activities.
● Our friendly and trained staff that will make sure everyone is having a great time.
● And, we help you with your setup and cleanup, which makes it a lot easier on parents.
Are you ready to plan your child's golf birthday party?
Here are the most frequently asked questions about having a party with us.
Is a deposit required?
Yes, a $295.00 non-refundable deposit is required to reserve your party. If applicable, the balance is due and payable on the day of your party.
Do you offer decorations, paper products, tables & seating?
We do not offer decorations or paper products ~ you are welcome to bring your own decorations and/or paper products to set up in the seating area for your child's birthday celebration. We do have folding tables and chairs on-site, but you are welcome to bring your own as well.
What food items can be brought into the facility?
You may bring any food items that you would like into the facility for your child's birthday party.
What kind of drinks can I bring?
Water, juice boxes, soda, etc.
Can I have alcohol for the adults?
No alcohol is allowed in our facility.
Can I bring my own goodie bags and balloons?
Yes, of course. We don't provide goodie bags, any decorations or balloons but you are welcome to bring your own.
Are there any additional items I need to bring to the party?
If you will be bringing a cake, please bring a serving knife, candles, and a lighter (no matches please).
If you'd like any additional information or details about golf birthday parties at Aussie Kids, please feel free to call and we will answer all your questions.
We look forward to helping you make this birthday party one to remember!
If you're looking for a unique birthday party and venue for kids in Atlanta, call Aussie Kids Golf Academy!
Aussie Kids Golf Academy
(404) 812- 6808
700 Miami Circle
Atlanta, GA 30324