Success stories of the Junior Golfers in Atlanta.
Jack Mallard
Jack is reminiscent of one of the most famous golfers in the world: left-handed, always smiling, graceful swing, impeccable short game, crowd-pleasing, positive attitude, and a genuine passion for the game. Jack is on his way to becoming the next Phil Mickelson, but with more major victories, including one at the U.S. Open (No Offense, Phil!). Initially, Jack's natural talent and temperament for the game helped him build a solid foundation. The dedication and commitment he has demonstrated over the past 4+ years at the academy helped elevate his game to a highly competitive level. Jack now competes at the local, regional and national level and has qualified for the U.S. Kids Golf World Golf Championship at Pinehurst. It has been a pleasure to watch Jack grow as a young man and a golfer during his four years of training at the academy. We look forward to seeing his success throughout his very bright future in the game of golf.
Riley Ruby
Riley is a Natural! Riley has been training at the academy for over 4 years and at 9 years old he has one of the most natural swings we've ever seen for his age. He is overly committed and truly loves the game, so he is always working to improve every aspect, physical and mental. Recently, Riley has been working on becoming a more well-rounded and consistent golfer, focusing heavily on ball striking, which will allow him to hit more fairways and greens in regulation so he can take advantage of his strengths. In his last four US Kids Golf tournaments, he has two 3rd place finishes, one 2nd place finish and a win at the Standard Club. In his recent Drive, Chip and Putt contest for Georgia, he placed 2nd in Driving and placed 3rd in both chipping and putting. He has achieved his goal of becoming a well-rounded golfer and has very bright future ahead of him. We are thrilled to watch his continued success and can't wait to see where his game will take him.
Jordan Levitt
Given Jordan's natural talent, he will excel at any game involving a ball, bat, club, target, etc. and golf is no exception. It's Jordan's attitude and commitment that have propelled his game to the next level and fostered his success on the competitive level. Every time he is playing or training, Jordan holds himself to the highest standard and works hard to meet his desires. As a result, he earned an invitation to and competed in the US Kids Golf World Golf Championship at Pinehurst. Jordan's potential in golf is endless and his hard work will continue to pay off as he travels down his road to a green jacket.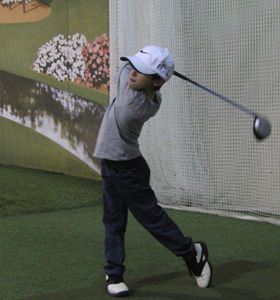 Sam Miller
Sam is a poster child for golf. He encompasses everything it takes to be a golfer and the game is genuinely lucky to have him as a participant. Sam's passion is truly remarkable and he always has a smile on his face when there is a club in his hand. Sam would be more than happy to play golf 7 days a week, and one day he will undoubtedly have that opportunity on the PGA Tour. Aside from Sam's tremendous amount of skill and love for the game, he also perfectly fits the mold of the "true gentleman" that the game warmly welcomes. Sam always exemplifies great respect for the game, the course, the other players, himself, his coaches and anyone or anything involved. He creates an absolutely amazing and memorable experience for himself and everyone around him every time he tees the ball up. After he initially began training at the academy at the young age of 3, Sam began competing in tournaments and has seen increasingly positive results on the competitive circuit. He was recently invited to play in the 2014 US Kids Golf World Golf Championships at Pinehurst, and we know we will see him in many more. Sam has been an absolute pleasure to have in our golf programs and we are excited to keep watching him mature as an elite golf prodigy.
Leo Zhang
The progress that Leo has made since he first picked up a club is astonishing, and would make millions of golfers very envious. Leo has participated in programs at the academy for 3 years and has developed into a very talented player. His capacity to learn has fueled his success as a golfer and as a young man. Leo recently recorded his lowest tournament round and will be competing on his school's Varsity golf team as a freshman. Leo's early accomplishments have certainly paved the way for an outstanding golf career.
Julian Jimenez
As a fairly late starter, Julian's golf game appears to that of a long-time player. His self-discipline and natural ability to learn at a quick pace have been huge attributes to his game. Julian has the intangibles that are not really teachable, but very valuable to one's game. Aside from the mental aspect, his mechanics are very graceful and it's a privilege to watch him play his way around the golf course. He has already made tremendous accomplishments as a freshman on his high school golf team, and we look forward to seeing him do even more with his game over the next few years.
Jack Hutcheson
When Jack began playing at Kids Golf Academy, he hadn't had much formal instruction but displayed tremendous athletic ability. Although golf was one of the many sports he excelled at, his open mind and eagerness to improve boosted his game substantially at an outstanding pace. Jack quickly became skilled in all facets of the game and was competing against other players his age within a few months of starting his program. Jack is still playing in local tournaments, with much success, and we are excited to follow him along his quest to the top.
Elle Reisner
Elle is pound-for-pound the strongest player in the game. Her determination, courage and charm are second to none. Elle has traveled many miles each week for the past few years to train at the academy in search of achieving her ultimate goals in golf. Rising quickly up the ranks, Elle has begun competing in local events and is constantly seeking to take it to the next level. Continuing on her glorious path to success, we are confident that Elle will have a very accomplished career and emerge among the top female golfers for her age.
Lance Reid
Lance and golf are like peanut butter and jelly: they just work together. His patience and positive attitude at all times are two of the most important intangibles for reaching golf goals. Lance is always inquisitive because he is determined to discover ways to catalyze his progress. His great aptitude and uncanny knack for conceptualizing technical information have made him a very efficient learner, with limitless potential. The next step for him is using his well-polished skills to compete with other juniors his age, and we are overly excited for him to do so. Lance is one of the kindest, most polite and well-mannered young men that anyone could come across. Lance will make the most of every situation in life, golf included. It is a joy to work with Lance and we hope to have him around the academy for many years to come.
>
Virginia Mathews
Virginia's golf journey began 3 years ago at the academy. She is 16 years old and built for success in golf and in life. Virginia worked very hard on her swing and made such an improvement that she earned a spot on the Lovett Lions Girls' Golf Team. Shortly after she began private training, her exceptional progress grabbed the attention of three of her friends and they quickly jumped on board to form a group lesson. Now, all four girls compete on the Lovett Lions Girls' Golf Team and have a great time practicing and playing together. All of the girls have come a long way and we are happy that they've taken up a game they can play together forever.
Julia Kelly
Julia is one of the smartest and most motivated 12 year olds we've ever had at the academy. She has a smooth yet powerful swing and can hit every shot the game demands. Julia's short game is phenomenal and she hits her driver farther than girls that are much older. Off the course, Julia strives hard to excel in many different areas and always brightens the crowd wherever she goes. The valuable time she's devoted to training has helped her build a foundation that will allow her to take the game to any level she wants. At her most recent competitive outing, her team used nearly all of her shots to lead them to a second place finish in a scramble at her local golf club. Julia is an incredibly talented individual and we are very lucky to have her as a part of our academy.
Sammy Griffin
Sammy first strolled through the doors of the academy at the mature age of 2! Now at the ripe old age of 3, he's an accomplished golfer. He has the total package and would practice for hours and hours if he could. His attention span and ability to grasp instruction are second to none at his age and his demeanor fits the game perfectly. He smiles the whole time he's in the academy or on the course and his least favorite part of every lesson is when it's over. Sammy is on track to become the next golf phenom and we can't wait to see what the game has to offer him in the coming years.
Jake and Saylor Kercher
We've been training Jake and Saylor at the academy for over 3 years and have enjoyed watching them both mature as golfers and adolescents. They are both natural athletes and played only leisurely with the family before they started at the academy. After quick progress and huge improvements, Jake and Saylor were both participating in at least one private lesson every week in no time. Last year, they entered the world of competitive golf, and Jake placed 3rd and 4th in his first two tournaments, while Saylor charged to a 3rd place finish in her first tournament. We are happy to believe this is only the beginning of their careers and that they will both continue the pursuit for greatness long down the road.
Bailey Apgar
Bailey has a smile that will illuminate every room and a natural swing that will make the most avid golfer envious. Bailey has great fundamentals and she thoroughly enjoys learning new skills and developing her game. Bailey's patience and persistence are her most adoring attributes and as we all know, they are paramount to enjoying this wonderful game. In the future, it certainly won't be long before she's competing in competitions regularly and as she continues on her path of improvement, she will succeed, not only with her golfing pursuits but everything that life has to offer her. We are very proud of Bailey and look forward to continuing to support her on her journey through the game of golf.
John and Jack
Brothers John and Jack are model students at AussieKids Golf Academy. Since they began training at the academy about 3 years ago, their comrodery and competitive drive with each other have steadily grown and been a great impact on their success. John and Jack are always enthusiastic about improving and their attitudes have greatly helped them in doing so. It's enjoyable to watch them encourage and interact with each other and other students. They will always be well-respected golfers and we hope to have their positivity around the academy for a long time.
Joseph Richburg
Young Mr. Richburg thoroughly embraces all the fun that our great game affords us. After taking lessons for 2 seasons, as well as participating in camps at the academy, he has developed a great foundation of skills and golf knowledge. Joseph has great support from his father, Joseph Sr., who now fears that his son will soon be winning matches between the two.
The laughter and chuckles always abound when Joseph teams up with best friend, J. Ellis, and there seems to be a life-long friendly rivalry developing between them. It's awesome to see Joseph embrace the game of golf in its entirety, with its nuances and challenges. The staff at the academy looks forward to assisting Joseph in exploring his love for golf and sharing in the great fun he brings, every time we see him.
Joshua Bell
2009 – Joshua started playing golf in March 2009 and was fortunate to play in and win the 2009 World Qualifying Event that was held in Myrtle Beach, SC. After winning the 2009 Atlanta Golf Summer Series which comprised 8 local tournaments, Joshua has qualified to play in the 2010 European Championship in Scotland and the 2010 World Championship to be held in Pinehurst, NC. In August 2009, Joshua played in the US Kids World Championship. With scores of 49, 46 and 47 Joshua placed 76th in the World for 6-year-olds. 2010 – Joshua played in the 2010 US Kids World Championships held in Pinehurst, NC. With scores of 53, 40 and 42, Joshua finished 53rd in the World Championships for 7-year-olds.
* Joshua has been a part of the Performance Program over the past 2 years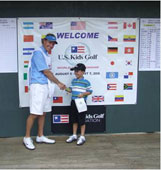 Trevor Dozier
2010 – Trevor competed in and won the 2010 Atlanta Golf Spring Series that comprised 8 local tournaments. This qualified Trevor for many major kids golf events throughout the World in 2010 and 2011. Trevor competed in the 2010 European Championship in Scotland and the 2010 World Championship held in Pinehurst, NC. In August 2010, he finished 76th place with scores of 52, 47 and 49.
2011 – Trevor competed in and won the 2011 Atlanta Golf Spring Series that comprised 8 local tournaments. This qualified Trevor for many major kids golf events throughout the World in 2011 and 2012. Trevor plans to compete in the 2011 European Championship in Scotland and the 2011 World Championship held in Pinehurst, NC in August 2010.
Read more about our Golf Programs here:
Private Golf Lessons for Kids in Atlanta
Competitive Junior Golf in Atlanta (Performance Program)
Junior Golf Summer Camps in Atlanta
Junior Golf Group Lessons in Atlanta