Group Training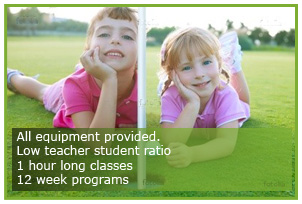 Have your kids learn and improve their golf game in our Group Training Programs at an early age. You will marvel as your child develops their physical abilities and mental focus while having fun learning exciting new skills that boost their overall confidence.
We keep children involved and foster enjoyment of the game of golf in the following ways:
Fun
We provide an environment that is fun and exciting for our students.
Friends
Our group classes allow for our kids to enjoy themselves while having fun with other friends.
Fit In & Feel Good
Our Athletic Development Approach allows for children to experience successes in the activities they do in each session, therefore providing confidence and self-esteem.
To Participate in Activities they are Good at
Our Athletic Development Approach lays the building blocks for successes and therefore allows our students to experience confidence in the activities they do.
Overview of our FUNdamentals Group Training Program:
Three age groups to choose from:
3-5 yrs
5-7yrs
8-12yrs
12 week Program
1 hour training session per week
Mon through Saturday class options available.
All equipment provided
Golf course training included
State of the art indoor academy impervious to inclement Atlanta weather conditions
Our Group Training Program allows our students to develop in the following ways:
Fundamental Golf Skill Training (putting, chipping and driving)
Motor Skill Development
Improve mental focus
Expand their social development
Focus on goal achievement
Fun and Enjoyment of the game of Golf
Develop hand-eye coordination
Stability training and balance
Also check:
Private Golf Lessons for Kids in Atlanta
Competitive Junior Golf in Atlanta (Performance Program)
Junior Golf Summer Camps in Atlanta
Junior Golfers in Atlanta -Success Stories