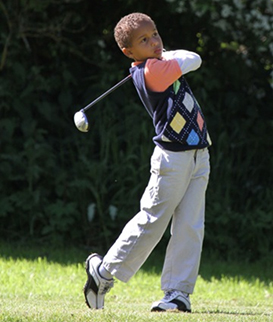 We are excited to announce that we are opening a second Aussie Kids Golf Academy near Johns Creek, GA. At the new facility, children will learn to love the game of golf through professional and fun teaching techniques. The school's instructors provide knowledgeable guidance and are passionate about teaching golf to children.
Along with supplying excellent golf instruction, the new academy will focus its teaching methods on building a child's self-esteem and confidence. After school programs and camps will provide unlimited opportunities for your kids to develop a great athletic foundation while they have fun building friendships and character.
Ages Three to Five . If you have a child who is three to five years old, then enroll him or her into our Johns Creek school to learn the fundamentals of golf. During the program, kids develop their motor skills and learn how to focus mentally. To ensure that your child is engaged in the academy's golf programs, the school's officials hire instructors who have childhood education training.
Ages Five to Seven. The Johns Creek golf academy will focus on improving the hand and eye coordination of children who are within the ages of five to seven. This afterschool program is also designed to expand each child's social development and mental focus. Instructors teach using a system that becomes progressively more complex. In addition, the school's golf instructors specialize the program according to each child's abilities. This training technique ensures that young golfers reach the next level at the proper time.
Ages Eight and Up. Once enrolled in the Johns Creek golf academy's afterschool program, youth ages eight and up will train to develop their stability, balance and more. The program will increase your child's social circle. It is also designed to help your child improve his or her ability to focus on one task. By attending the school, your child will have the chance to foster exciting skills that will surely lift his or her self-confidence.
Additional Program Features
While enrolled in our Johns Creek Aussie Kids Golf program, your child will learn about the importance of diet and nutrition along with fundamental movement skills. Qualified instructors will teach him or her the proper way to use golf equipment and how to play on an official course. You can register for the academy's afterschool programs online, or you can stop by to see the Johns Creek facility firsthand.
Building Confidence through Golf 
The Johns Creek academy will help your child increase his or her mental focus and physical abilities. When you send your child to the Aussie Kids Golf Academy, he or she will gain an appreciation for a tough sport, make new friends and acquire unique skills.