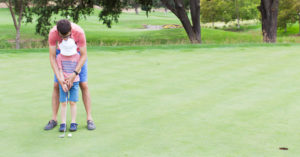 Have you always pictured golf as a game that only adults enjoy or benefit from? The reality is that young children can get a great deal of enjoyment and health benefits from playing golf as well. At Aussie Kids Golf Academy, we believe that the game of golf has a lot to offer to children of all ages and from all backgrounds. Golf teaches important life skills in a fun and family-centered environment that promotes ease of learning and the development of many new skills. Please contact us today if you have questions or would like to discuss our various enrollment options. Here are 6 tips we've come up with for taking your kids golfing.
Tips for Making Your Golf Session More Enjoyable
The prospect of engaging in a brand new activity with a young child can be daunting. Children are prone to mood swings when they tire out or get hungry, for example. They may also be easily discouraged as they learn the ins and outs of a brand new sport. However, there are many things you as a parent can do to make the experience more enriching for everyone involved. The following list is a good place to start.
Bring Snacks and Drinks
You know your child's hunger and thirst patterns better than anyone else. If you feel your child might get hungry or thirsty while on the course, it's best to bring along light snacks and hydrating drinks that you know they'll appreciate.
Bring an Umbrella
A large umbrella can protect you from the bright sun and any other weather elements that might crop up. Unprotected sun exposure isn't recommended, especially for a young child's delicate skin. Additionally, too much time in the sun could make your child restless or tired.
Bring a Friend or Sibling
If you think your child would enjoy company, it may be wise to bring along a friend or a sibling. In between plays on the golf course, they can have a buddy to play with.
Purchase Special Equipment
You can make the game even more exciting by purchasing some inexpensive gold equipment just for your child. It could be something as simple as bright colored gold balls that are all his own.
Dress Appropriately
If you're going to be on the golf course, you may as well dress the part. Golf professionals and newbies alike often prefer the comfort of collared shirts. The same shirts that are available in clothing stores all over the country as part of their back-to-school clothing choices will work just fine on the golf course as well. Old Navy and Gap are two of many stores offering these types of shirts.
Be Encouraging and Patient
Perhaps the best thing of all that you can do as a parent is to be patient and to encourage your child to simply do his best and enjoy the game. Young children will likely run low on stamina and patience themselves. They may get frustrated, especially in the beginning as they are picking up new skills. However, they're much more likely to enjoy the game and stick with it for the long term if they experience the joyous encouragement of their parents and other loved ones.
Golf is a safe, contact-free sport that offers many physical, emotional, and social benefits to children of all ages. Additionally, golf is a family-oriented game that parents and children can engage in together, creating the opportunity to expand on your existing relationship with your young children. Golf offers the further development of many social skills and teaches valuable life lessons that can benefit your child for years to come.