Many junior golfers dream of playing golf in college. For most junior golfers, deciding where he or she wants to attend college to play golf is the first hurdle. Once several programs have been identified, you will next need to determine how to get the coaches' attention. It is important for you to write a strong golf resume so that the coach will have good information about both your game and your academic record. In addition to your resume, it is also important that you understand what scouts look for and how you might be able to make a good impression when you meet a college coach in person. When you approach these steps in the right way, you may improve your chances of getting into a great golf program at a school that you love.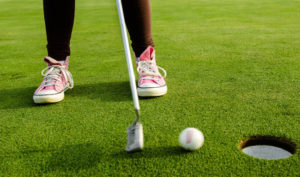 How to write a golf resume for college coaches
When you write your resume, you should start with your basic data. This information should include the following:
Your name, address and phone number
Your date of birth
Your height and weight
The name of your high school
The month and year that you will graduate
Your class rank, GPA and SAT or ACT scores
Your state or USGA handicap index
Your high school stroke average
A list of your other extracurricular activities and sports
Following your basic information, you will next need to list your highlights and your tournament results. You should list the name of each event and its location along with the number of players. You will want to list what your finish was, the yardage that you played, the course's rating and distance and any weather that might have occurred during the event.
This section is important because it allows you to demonstrate to college coaches your abilities when playing tournament golf. If you have played in tournaments for several years, arrange them chronologically so that college coaches can easily see the improvements that you have made as time has passed.
What are the top skills college coaches look for in golfers?
College coaches look for much more than your performance at high school golf events unless you played in the state's championship. Coaches pay attention to the scoring average that you have in other tournaments that are more competitive such as junior golf events. Your grades are highly important. If you do not have grades that are good enough for what the school is searching for, college coaches are likely to move on. Finally, coaches like to see that golfers have played in other sports so that they know that they have strong athletic abilities.
How to get noticed via scouting videos and letters
Most junior golfers submit videos and letters along with their resumes. It is important for you to help yourself to get noticed when you submit these. There is a limited chance that you will get noticed by a college golf coach at a combine. Instead, you have the responsibility of reaching out to them and of making a lasting impression. If you are taped at a golf tournament, get a copy and submit it. You can also have a digital video taken of you that highlights your abilities. Frame shots to include you as well as the flag so that the coaches can see the trajectory of the ball. Frame yourself in the center of the picture from the side, and take shots from the back end so that the coaches can see the ball's flight. Include around 10 repetitions of your drive from the tee. You will also want to include drives at various distances. Film yourself driving from the fairway around 10 times in different situations. You will also want to film about 10 repetitions of you putting on the green. Make certain to film yourself using a variety of different clubs.
In addition to your video and your resume, you will also need to send a cover letter. In your letter, briefly summarize your accomplishments and explain why you are interested in the school's program. Your letter should be written in such a way that it makes the golf coaches want to take a closer look at your resume and your video. Some junior golfers also create online portfolios and include links in their resumes to their profiles so that college golf coaches can take a closer look.
What college scouts look for in the golf scores of both boys and girls
The scoring averages that college scouts look for differ depending on the school's division as well as your gender. If you are a boy wanting to attend a Division I school, you will need to have a scoring average that is 75 or better. For schools in the Top 20, you will need to have a scoring average of about 72. Division II schools look for scoring averages that range from 75 to 80. Finally, Division III schools look for scoring averages ranging up to 85. If you are a girl who has a scoring average that ranges from 85 to 90, most Division I golf programs will be interested in you.
What the college recruiting process is like
The college golf recruiting process differs from the process for other sports. College golf programs normally do not have large enough budgets to allow the coaches to go on the road in search of players. It is up to you to send in your highlights, resumes and videos. You will need to start by figuring out which college's golf program appeals to you the most. You should also pay attention to the school itself and make certain it is somewhere that you would like to go. Plan to send your information to up to 10 programs. Some junior golfers also get help from college recruiting services that send their information to schools on their behalf.
How to make a good in-person impression with a college coach
When a college golf coach expresses interest in you, the coach may invite you for an in-person meeting. In order to make a good impression, you should practice in advance. Make certain that you are assertive in your answers because it shows self-confidence. Don't be afraid to express a little emotion to convey your excitement about the program. Practice answering open-ended questions, and be prepared to show the coach what you will be able to offer to him or her.
How to submit personal highlights
Because college golf coaches are busy, mail sometimes piles up. It is a good idea to submit your materials as attachments to an email in addition to mailing them. College golf coaches may be likelier to open their emails and see your material. Make certain that your personal highlights stand out by using bold fonts.
It can be very exciting to be recruited to play college golf. If you are careful in how you approach all of these things, you might soon be on your way to a great program at the school of your choice.