After children have had some experience on the golf course with an instructor and have learned the rules and the etiquette, they may be ready to start competing in youth golf tournaments. There are many different tournaments for youth across the U.S. for players of all ages and scoring levels. Before signing up your child for a tournament, it is important that you are sure that he or she is ready so that his or her confidence isn't destroyed.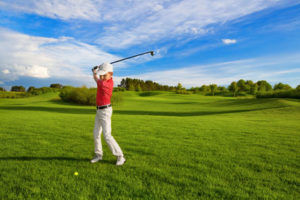 How old do children need to be to enroll in golf tournaments?
Some tournaments require that children are at least seven years old or older while others have levels for children who are under age seven. When your child is ready to play tournament golf, you will want to check around to find a tournament that matches your child's ability level as well as his or her age.
How to choose a suitable tournament for your child
It is important to choose the right tournament for a junior golfer. You should consider your child's skill level and choose a tournament that fits it. You should check the prior year's results to assess how competitive it is and whether or not your child's scoring level fits it. If your child is young, you should understand that some tournaments make all children ages 7 through 10 compete with each other while others have competitions for each age. The locations are important. It is a good idea to have a mixture of tournaments with some being closer to home and others further away. Once you have identified a good golf tournament for your child, you will then need to understand how to help him or her to prepare.
How to prepare your child for a golf tournament
Before registering for a golf tournament, it is important that your child has plenty of opportunities to practice. When they are ready and after you have registered, you should help them to get to know the course where the tournament will be held. Make certain that your child gets plenty of sleep. It is also important that your child stays well hydrated before, during and after a golf tournament. Finally, teach your child to visualize successfully completing the tournament. This may help him or her to remain focused on the day of the tournament.
How to make certain that your child's equipment is ready
Before a golf tournament, you should make certain that your child has all of the equipment that he or she will need. You should make certain that your child has the following:
Junior golf bag and cart
Junior golf tees
Junior golf clubs
Junior golf clothing and shoes
In addition to these basic supplies, you should gather some additional items for your child to carry in his or her golf bag, including the following:
Golf balls
Golf gloves
Extra golf tees
Small towel
Sunscreen
Water bottle
How children and parents should act at golf tournaments
Competing in golf tournaments requires that both children and their parents know all of the unspoken rules of etiquette. While golf is very social, it is important that you and your child are silent when another golfer is preparing to swing. Your child should also leave the course in good shape. He or she should fill in his or her divots and ball marks and rake the bunkers. Make certain to watch your shadow so that it is not in the visual field of someone else who is putting. Both parents and children should understand the importance of good sportsmanship. Your child should be taught to yell "Fore!" if he or she hits a ball that goes the wrong way towards another person.
What attitude should parents project to their kids before golf tournaments?
Before golf tournaments, parents should work to help their children to gain confidence. They should act positively while also preparing their kids for the chance that they might not win. You should stress to your child that playing in a tournament will give him or her good experience regardless of the outcome.
Choosing a competition level according to your child's scoring level
In order to choose a competition level for your child, you should choose it according to your child's scoring level. You should calculate your child's average score and then choose a level that fits his or her average. Many junior golf tournaments post scoring ranges for different levels, helping you to know which level to register your child for. Don't choose a competition level that is above your child's average scoring level or it might destroy his or her confidence.
How to keep your child positive during a tournament
Before a tournament, help your child process through his or her emotions. If you also help him or her to visualize successfully completing the course, he or she is likelier to remain focused on the day of the tournament. Whenever he or she misses, stay positive and tell your child, "Good effort!" Stress that the most important thing is to continue working to improve and let your child know that it is okay if he or she does not win.
Junior golf tournaments can be a great way to help your child to improve his or her game. You should make certain that your child is ready for tournament play and understands all of the rules of etiquette. By helping him or her to prepare and choosing the tournament and level that is right for your child, your child can have an excellent experience regardless of his or her score.