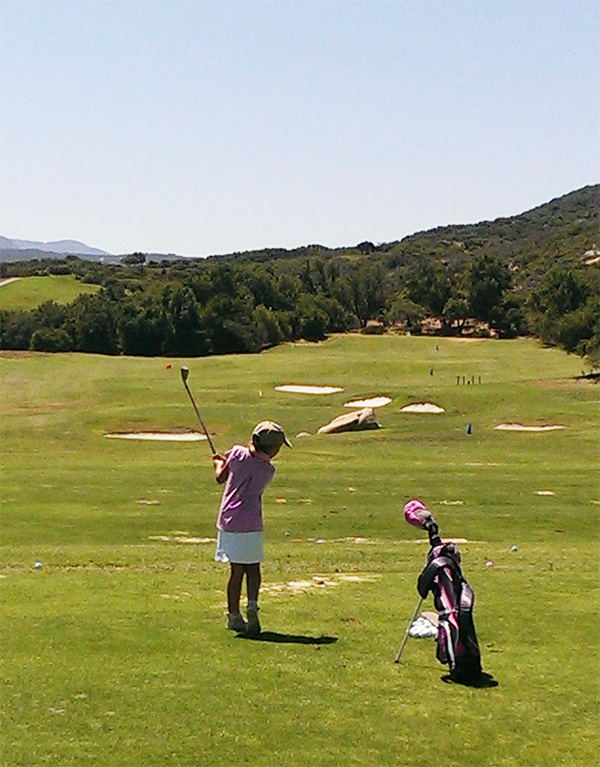 Are you thinking about a great summer camp in Altanta that's perfect for girls? For lots of kids, experiencing great summer camps can impact them for the rest of their lives. This is especially true for girls. You may feel unsure about whether or not a golf camp program is the best way for your daughter to spend her summer, but rest assured that this experience can help to shape her into the strong, independent woman you want her to be.
Playing golf and golfing at an early age will be very beneficial to girls when they grow up. Learning golf teaches kids things like how to be social in a public setting, how to interact with people, and how to get along with others. Golf has rules, etiquette, and processes in the same way life does when you grow up. Also, in golf the physically strongest person is not necessarily better at golf. In fact, many of our girls play better golf than same age boys!
So here is why golf summer camp is great for girls:
Anyone can play. Anyone with any body type and at any age can play – one doesn't have to be lean, strong, or fast to play golf. Golf champions come in all shapes and sizes. Unlike most other sports, you can enjoy golf your entire life and it's never too early to start!
Golf is a noncontact sport. The chances of injury are very minimal. Also, golf is a sport that requires patience, strategy and other mental skills in addition to ability.
Safe and Positive Environment: The golf course is a safe place and facilitates relationship development in a beautiful setting.
Lifelong Friendships: A golf course is a great place to make friends because golf is played in small groups, and the environment is peaceful and quiet so kids are able to talk to each other for longer periods of time, versus a sport like soccer or swim.
Prepare for Business: This is particularly important for girls who are not as often encouraged to be prepared for business life. Golf is a sport that helps prepare kids and teens for careers in business and other professional arenas.
Spend Time Outdoors: Golf is the perfect excuse to spend an entire day enjoying nature and presents the opportunity to develop healthy, lifelong exercise habits!
Important Life Lessons: Golf is a game where learning how to conduct oneself on the course is imperative. Golf also parallels real life. You have good shots and bad ones, but you have to keep focus and keep positive. Golf requires powerful shots, but also precise short ones. Golf requires patience, integrity, discipline and respect. Golf lessons translate to life.
Scholarships: Girls that play golf can also benefit greatly from higher education scholarships that very often go unclaimed for women. Read more about golf scholarships for girls in our blog.
Family Time: Golf is a game can be played by the entire family. On the golf course we see mothers and daughters, brothers and sisters, fathers and daughters, all playing, bonding. Golf is an opportunity for quality time, and it's one that can last a lifetime.
FUN: One of the best reasons to get your daughter, involved with golf is that she'll have a blast!
There are many choices during summer for camps for girls, but only a few make a real impact.
Try golf summer camp for girls at Aussie Kids!
At Aussie Kids, we have full-day and half-day summer camps. We have an amazing indoor facility where the kids will learn their skills, and we also have time on course. Call us to find out more! Hurry, spaces fill up quickly.