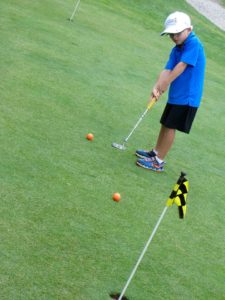 If you have a child between the ages of 4 and 17 who loves golf, come to Aussie Kids. We have the best 2017 Full Day and Half Day summer golf camp in Atlanta. Attending camp is always a lot of fun for children of all ages, but it also gives them the chance to learn vital skills. We are going to explore some of the benefits that Aussie Kids has to offer so that you can make the choice that makes the most sense for your family.

About Aussie Kids

Parents who have been searching for the perfect summer camp are amazed when they learn about our facility and the activities that we host. To help each child have the best possible experience, we have six hitting bays, high-tech swing analysis software and golf simulators. Using our swing analyzer will help your kid improve his or her swing and to take their skills to a new level. Since we have talented coaches who are passionate about helping kids succeed, your child will always have access to quality mentors. You will know that your child is in good hands when you visits us, and your kid will thank you for choosing one of the top summer camps in Atlanta.

Benefits of Going to Camp

The skills that your child will learn at Aussie Kids will last a lifetime, and she will never forget the experience. Being around peers who share the same passions will enable any child to build social skills, to meet new friends and to form bonds. Because our activities are on a schedule, your child will learn the importance of managing time and remaining committed to goals. Since our team understands the value of self-esteem, we help children learn to value themselves and to maintain a positive state of mind, which will work wonders for building their confidence. If you want the best for your kid, then you won't be disappointed when you turn to us this summer.

Our Programs

At this point, parents usually ask us about the programs we offer, and they want to know what time they can drop off and pick up their child. We are aware that people have busy lives, so we offer flexible schedules that can work for almost anyone. Your child is welcome to join us for a half-day or full-day camp that will offer a range of games, contests and prizes.

Final Thoughts

Increased talent, boosted self-esteem and fond memories are the things your child will bring back from our camp. Our No. 1 goal is to create an environment that allows children to grow and to push themselves beyond their comfort zones at their own pace. If you have any questions, we invite you to give us a call right away.