Youth on Course – Play Golf For Just $5

Youth on Course is a program of the Georgia State Golf Association. When you join, you will receive an official GSGA / Youth on Course membership card in the mail. Simply show membership card at participating GSGA clubs and play golf for just $5!

Youth on Course Offers a Unique Golfing Experience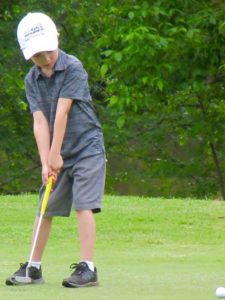 Youth on Course is a unique golf centered program aimed at helping children between the ages of 6 and 18 years to have access to affordable golf courses in a wide variety of locations across the United States. Youth on Course was created because of the belief that the game of golf can impart vital life skills to kids of all ages, and that no child should be prevented from being able to play golf simply due to a lack of affordability. This program is a great supplement to your kids' camps and after school programs at Aussie Kids because it provides them an opportunity to continue to practice and refine their learned skills.

The Background of Youth on Course

Youth on Course started in the state of California in 2006 and was a byproduct of the Northern California Golf Association. It simply began as a way to increase the accessibility of this game to children of all socioeconomic backgrounds and ages, as well as to provide life changing opportunities for scholarship programs, paid internships and many more similar types of things that can set kids up for a successful career.

Since 2006, the Youth on Course program has exploded due to its popularity at providing the skills the game of golf offers at the price of only $5 or less in most of their locations. There was such a warm reception and an increased demand for the program that it spread from the state of California to many other locations across the United States. Youth on Course programs now exist in 12 regions and they have provided more than 400,000 rounds of golf to children across the US, as well as awarded a whopping $250,000 in scholarship funds to deserving youths every year. Youth on Course in Atlanta is just one of dozens of locations offering this exciting privilege to area children everywhere, providing the opportunities to learn life enhancing skills.

Youth on Course and The First Tee

The First Tee is a program that introduces children to the game of golf and provides them with the life skills they learn by interacting with others on the course as they learn to play the game. These two programs work together to provide additional benefits aside from the amazing opportunity to play golf on over 330 golf courses across the US at a cost of just $5 of less.

Youth On Course in Atlanta can provide your child with the unique opportunity to play golf on some of the finest golf courses throughout the state of Georgia at an affordable rate of just $5 or less. The skills that are learned through this unique program can provide lifelong benefits to your child.

Golf provides the opportunity to form lasting and unique relationships with other players and professionals, as well the training and mindset to overcome adversity and grow through challenges. The following are some of the other types of benefits that playing golf can provide:

* Golf Teaches Maturity

Bad plays occur on the golf course, and it can take a great deal of determination to bounce back from them. Additionally, young people aren't necessarily equipped with the best self control or maturity levels, but with practice and learning to deal with set backs experienced while playing golf, they can become more mature in the way they respond to these events.

* Golf Increases Patience

Unlike some other sports, golf is not a fast paced game. Much like maturity, patience is something that is learned and the experiences that golf offers can do much to support this learning process. You can't rush or force a great shot, and standing by and patiently lining up a good shot or waiting for another player to take their turn is a great learning experience for children.

* Golf Teaches Acceptance

Accepting the consequences of our actions is something we all have to learn, young and old. When a child makes a poor play on the golf course, he learns through trial and error to accept and learn from that play. In concert with this, when he makes an amazing play, he experiences the joy that comes along with it.

* Golf Provides a Unique Perspective

No matter what a child decides to do in life, there will always be people out there that are better than he is. On the flip side of that, he will also always be better than some other people at those same skills. Life isn't about constantly comparing ourselves to others but is more about being the best that we can be in the things that matter most to us. Golf can help increase these unique perspectives about focusing on becoming the most authentic versions of ourselves with the realization that players of all skill levels exist.

The game of golf is well loved and respected for many reasons. Children and adults alike have loved the game of golf for decades, and it provides the development of many lifelong skills that can serve a person well in many aspects of their life.
Join Youth on Course today and start playing golf for as low as $5 dollars!