The swing is a fundamental part of any golfer's game, regardless of skill level. After all, if you can't swing a club properly, how can you make it through a round of golf? That's why perfecting your swing and consistently working on swing accuracy is something that you never stop doing.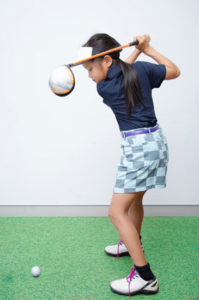 At Aussie Kids Golf Academy, we think kids should have the opportunity to improve their swing accuracy in a fun, safe and positive learning environment. We encourage kids to not only be great learners but great teachers as well. By fostering their love of the game and their naturally inquisitive natures, we help them develop an intuitive feel for how their swing technique can be improved.
In addition to our lessons, we think it's great for kids to keep practicing at home. Even if you don't have a golf course in your backyard, your child can still use the tips below to improve his or her swing anytime.
1. Find Your Ideal Grip
There is no single "correct" way for every golfer to grip a club. Various types of grips fall in and out of style, but it's more a matter of where your child's grip naturally falls. Not only will a particular grip feel more comfortable, but it will allow your child to get the club in his or her fingers, which is ideal for achieving maximum grip mobility.
Have your child experiment with grips like the baseball, Vardon and interlocking to see which feels best. Finding the right grip is the first step towards improving swing accuracy.
2. Ball Position Matters
Nothing is more frustrating than when your ball goes in a completely different direction than you expected it to go. Often, this is because the ball position isn't set up correctly. Learning to position the ball correctly will drastically improve swing accuracy.
When the ball is too far back, the swing will end up too far on the inside, which almost always leads to a hook. If the ball is too far forward, the swing won't connect squarely, and your child will usually pull the shot. Both of these incorrect positions can also lead to your child developing poor posture or compensation habits, which can further impact accuracy.
3. Pay Attention to Distance
Your child's distance from the ball is just as important as the position of the ball itself. Standing too close will result in his or her posture being too straight and stiff, and standing too far away leads to his or her posture being too slumped over. It's more common to stand too far away, which leads to poor body rotation and too much weight in the arms.
Have your child work on posture and distance to create a more consistent, powerful swing.
4. Swing With All You've Got
A lot of instructors will teach kids to slow their swing because they falsely believe this improves accuracy. Typically, when kids first start out, they have a tendency to swing hard and miss the ball. When the instructor tells them to slow down, they notice more accuracy. However, slowing down a poorly formed swing doesn't help your child at all.
Instead of teaching kids to swing more slowly, help them work on swinging powerfully and accurately. Making up games and fun drills that teach accuracy while allowing them to swing powerfully will help them develop into better players in the long run. Kids are naturally inquisitive and excellent at intuitively grasping concepts, so the more they focus on accuracy, the better they will be able to develop a natural feel for the proper form.
Let Aussie Kids Golf Academy Improve Your Child's Swing Accuracy
Aussie Kids Golf Academy is dedicated to developing junior golfers who are confident in themselves and their skills. Our group lessons, private instructions and summer camps are all centered around fostering a love for the game and giving kids the ability to succeed in life and on the golf course.