Chipping and putting are two of the most fundamental parts of mastering your golf game. Despite this, many adults tend to spend a lot more time on the practice range than they do the practice green. This is why we think that it's so important to start your kids off right when it comes to learning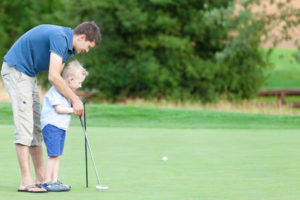 to putt. By starting good habits at a young age, it will become ingrained in them as adults, and they will be able to drastically improve their game.
At Aussie Kids Golf Academy, we design every aspect of our training so that it emphasizes the fun and excitement that comes along with the game. Because we want our kids to love golf and be excited by it, we employ teaching styles and techniques that foster a fun, positive learning environment. Putting is a concept that takes a lot of practice and focus to truly master, so we have compiled a few of our favorite tips below that will help your child build confidence in his or her putting skills.
1. Play More and Teach Less
Children have notoriously short attention spans, and that's okay. When you're young, you want to explore and experience things instead of being told to pay attention to someone lecturing you.
Keep your lessons short and simple. Use words they will understand. Get down on their level when you speak to them. Above all else, let them play. Show them that every aspect of golf is fun, and they will gravitate towards becoming more focused and interested in the nuances of the game on their own.
2. Lend a Helping Hand
You should absolutely let your child try and fail when it comes to learning a new concept. Nobody ever learns the right way until they've made a few mistakes. However, you should also remember that some of the things we take for granted as adults are major obstacles to a young child.
Don't let your child get so frustrated with the small things that they lose interest in the game itself. Watch for signs of frustration, and be willing to help at all times.
3. Show, Don't Tell
There's a reason that children's books are always filled with bright, interesting pictures. Kids are great visual and tactile learners, so your lessons should reflect that.
Rather than using proper terminology and long explanations, show your child the correct way to grip or exactly how your feet should look during a putt. You can point out the explanations as you go along, but it's more important to give your child a visual to follow.
Games are a great way to do this too. Turning practice drills into games can change something tedious, like learning to control your putt, into something exciting.
One particular game called "two putt" is a simple way to make the lesson of control more fun. You simply need one golf ball and a putter for each of you. Drop your balls on the green, and choose a hole to putt towards. If you get the ball in one putt, that's one point. A two-putt is zero points, and three putts costs you a point. By only rewarding the one putt, it forces the child to focus on controlling the speed of the initial putt.
4. Make Etiquette a Priority
Your child is never too young to learn proper putting etiquette. Not only will this instill good manners and respect for other golfers, but it will make sure everyone stays safe.
In spite of their excitement, kids should learn quickly that it's never okay to run or yell on a golf course. Don't nag or scold; simply give them gentle reminders about how the game must be played. This goes for rules of safety and courtesy as well. Children should learn early on to never step into a putter's line, and they should understand what it means to tend the flag for fellow golfers.
Another important rule is dress code. Unlike many other sports, golf requires a more polished appearance. Help your child follow the dress code by getting a special outfit or two that can only be worn while golfing.
Finally, teach your child to take care of the golf course. Show your child how to use the divot tool, the correct way to rake sand in bunkers and how to repair divots made in the ground.
5. Give Praise Freely
For young children, it's more important to reinforce positive feelings than give correction. Kids tend to think of things as either "fun" or "not fun," and receiving constant critiques will make the game seem "not fun" because the child may feel like he or she is "doing it wrong."
Rather than pointing out when your child makes a mistake, find something positive to say. For example, even if the putt was too forceful, you can praise your child's form or swing. If your child's grip was off, compliment the control of the putt instead.
There will always be time to correct mistakes later on. In the early stages, it's much more important to foster enjoyment and interest.
Let Aussie Kids Golf Academy Improve Your Child's Game
Our training programs are designed to help children as young as three develop a love for golf. We hold group lessons, private lessons and summer camps all focused on creating good golfing habits, building confidence and instilling the skills needed to perform with pride and success.