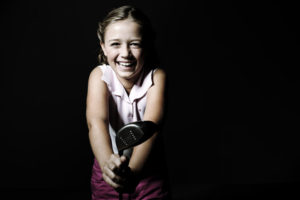 Not only will children make friends on the golf course, they'll get plenty of fresh air and sunshine. Unlike football and soccer, which involve physical contact with other players, golf is a relatively safe sport. Although occasional muscle injuries and sunburns can affect a young golfer's well-being, it's a low-risk sport that teaches so many valuable lessons and distracts kids from otherwise negative activities.
Junior golfers also acquire basic etiquette skills that will serve them well in school and business someday. Children gain self-confidence, improve basic math skills and learn how to problem solve while they're on the golf course.
Since anyone can play golf, children learn about diversity and how to get along with others who are different than themselves. Proper behavior, including the ability to control one's emotions, can improve a child's behavior at school and help them make new friends wherever they go. When children have golf buddies, they aren't as tempted to succumb to peer pressure or join a gang while searching for acceptance.
Last, but not least, kids who play golf with friends and family spend less time using electronic devices. You can't stare at a phone or tablet when there's a beautifully-manicured course in front of you.
As you can see, children who play golf have a clear advantage. The only thing you need to do is outfit them with the proper equipment and find a certified coach near you.
What To Buy
If you're a parent without a lot of knowledge on the game of golf, you may be wondering where to start. Unlike experienced adult golfers, there is really no need for a young child to carry the standard 14 clubs. Many pros suggest simply starting with a wedge and a putter, then adding irons, hybrids and drivers as the child progresses.
You'll want to pay a great deal of attention to the height and strength of the child when choosing clubs since young golfers often struggle to launch the balls a great distance. U.S. Kids Golf specializes in outfitting players ages 4-12. They offer nine club sizes ranging from 39-to-63 inches in height.
By the time your little golfer reaches age 10, they should have between 12 and 14 clubs. Look for a retailer that offers a buy-back program. U.S. Kids Golf accepts trade-ins when young golfers graduate to the next size up.
Stores that specialize in kids' golf equipment, such as U.S. Kids Golf, are known for their ultralight clubs and their reasonably priced certified coaching. They also offer local tours, which is a fantastic way for your junior golfer to gain experience and make more friends. Compare U.S. Kids Golf equipment and prices with Taylormade. It's worth adding that U.S. Kids Golf customers receive every sixth club for free!
By the time your child is playing in tournaments regularly, you'll want to consider investing in titanium drivers. Aluminum drivers cannot launch the ball as far and will affect overall performance. Kids need golf clubs that are light but high-quality, like those found at U.S. Kids Golf.
When it comes to choosing a golf ball, go with soft compression balls. They are ideal for slower swings that do not generate much spin. Slow swingers (children who average slower than 70 miles per hour) will require compression in the mid-50s.
For more advice on choosing equipment and balls for your junior golfer, visit U.S. Kids Golf at http://www.uskidsgolf.com. You're only a click away from your child's brighter future.